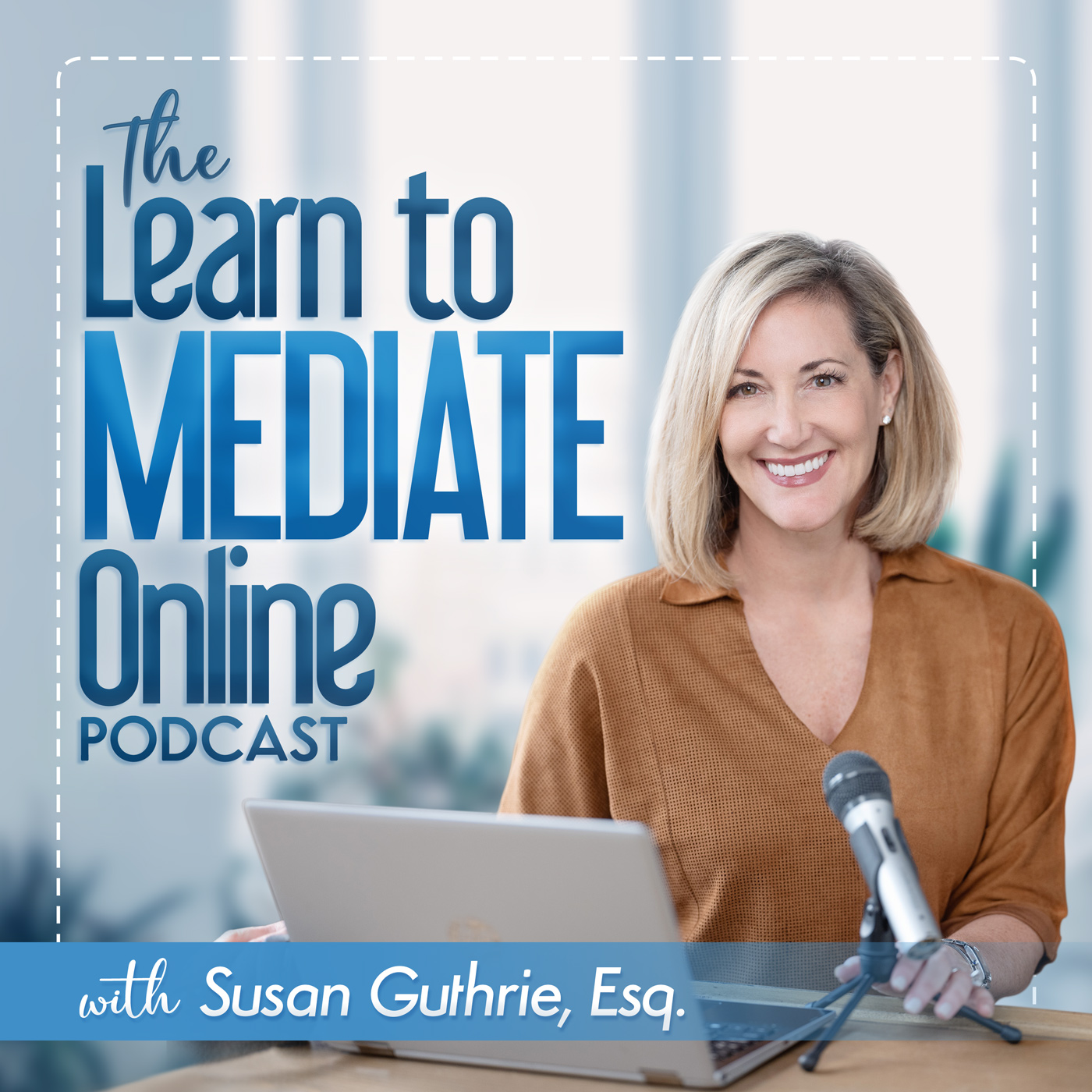 On this episode, Host and Online Mediation Expert, Susan Guthrie is joined by veteran Workers' Compensation Mediator, Elliot Herland who describes his journey from online mediation novice to seasoned veteran of ODR and the many ways going online has been a "joy-generator" for him.
For many mediators, arbitrators and advocates, the recent disruption of their established practices, due to the constraints imposed by the COVID quarantine, has brought fear and dismay into their world.  The inability to continue to meet with clients and participants in person to conduct dispute resolution proceedings left many with the feeling that they were forced to consider moving online.  That is not to say that they were excited by the idea.  In fact, most reported being worried they would lose the personal touch, that the tech was too hard and frankly, that they would look less than in charge of their proceeding.
Elliot Herland, a successful mediator and arbitrator since 1997 felt much the same as he faced the need to conduct his mediations online.  There was much to learn and and the timeline was short as people realized that COVID would not be a momentary disruption.  Although Elliot at first was leery of the new platform, he soon realized that there were benefits to the online medium and he was still helping people to resolve their disputes, much as he had in person.  In fact, he now describes online mediation as one of his "joy-generators" and encourages other practitioners and attorneys to consider giving online mediation a try!  Hear some of Elliot's tips and insights from his journe from fear to ODR Adopter in this episode of the Learn to Mediate Online Podcast!
SOCIAL MEDIA MUSTS FOR PROFESSIONALS Downloadable Program GIVEAWAY from ELLIOT & SUSAN!  Elliot and Susan are each giving away one copy of Susan's downloadable Social Media Musts for Professionals Program (normally $57) to TWO listeners.  To enter the drawing, just send an email to Susan at susan@learntomediateonline.com and include the "special number" mentioned in the episode in the subject line.  Deadline for entries is Friday, July 10th at 5pm ET.
********************************************************************************************************
More About This Week's Guest:  
Elliot Herland, Herland Mediation Services
William Mitchell College of Law 1984
Litigator from 1984 to 1997
MN Dept of Labor & Industry, Workers' Compensation Division, Mediator/Arbitrator 1997 to 2004
Union Construction Workers' Compensation Program, Dispute Resolution Facilitator 2005 to 2019
Herland Mediation Services since 2004 conducting mediation sessions in person, online and by phone
Assisted in writing a portion of Minnesota Workers' Compensation Deskbook, Chapter 20, on the topic of collectively bargained workers' compensation programs
Continuing Legal Education speaker on the topic of alternate dispute resolution in Minnesota's workers' compensation systems
For more information on Natalie Armstrong Motin's "Will Work For Food" webinars you can visit her website at  https://www.howtomarketmymediationpractice.com/will-work-for-food
****************************************************************************
About Our Host: Susan Guthrie, nationally recognized as one of the Top Family Law and Mediation Attorneys in the country, has been helping individuals and families navigate separation and divorce for 30 years. Susan provides online divorce mediation and legal coaching services to select clients around the world.As a leading dispute resolution professional, Susan is honored to serve on the Executive Council of the American Bar Association's (ABA) Dispute Resolution Section as the Membership Officer and to be a Co-Chair of the Mediation Committee.
Susan also is one of the leading experts in online mediation in the country and trains other professionals in the practical and ethical considerations of conducting their mediations online through her business Learn to Mediate Online (www.learntomediateonline.com.) To date, more than 15,000 dispute resolution professionals have benefited from her online mediation training program which is available through LIVE webinars.  See the website for dates and times.
Susan also offers additional training and webinars in:
Social Media Marketing for Professionals  NOW AVAILABLE AS A DOWNLOADABLE PROGRAM 
DIY Website Basics (DOWNLOADABLE PROGRAM COMING SOON!)
Building an Online Practice 
Starting Your Own Podcast 
Optimize Your Family & Divorce Mediation Practice
and MORE so be sure to check the site for dates and times and to REGISTER!  LEARN TO MEDIATE ONLINE www.learntomediateonline.com 
Susan has been featured in and on media outlets such as CNBC, Market Watch, Forbes, Eye on Chicago, WGN, the ABA's Just Resolutions Magazine, Thrive Global, The Nook Online among others. She is licensed to practice law in the States of California and Connecticut as well as before the Supreme Court of the United States.
Susan's other Podcasts: After a year and half of co-creating and co-hosting the award winning podcast, Breaking Free: A Modern Divorce Podcast which reached over 3 million listeners, Susan recently launched her fresh and inspiring new podcast, The Divorce and Beyond Podcast with Susan Guthrie, Esq. which debuted on iTunes "Top Podcasts" List for self-help podcasts. Divorce & Beyond is focused on pulling back the curtain on the mysteries of the divorce process and bringing tips and resources to help people to thrive and shine in their new future beyond divorce.
Follow us on Instagram:  Susan Guthrie, The Divorce & Beyond Podcast and Learn to Mediate Online!
Be sure to subscribe to the podcast on your favorite platform so that you don't miss an episode and if you enjoyed this episode, please give us a 5 Star Rating on iTunes and tell us what you liked in a REVIEW!