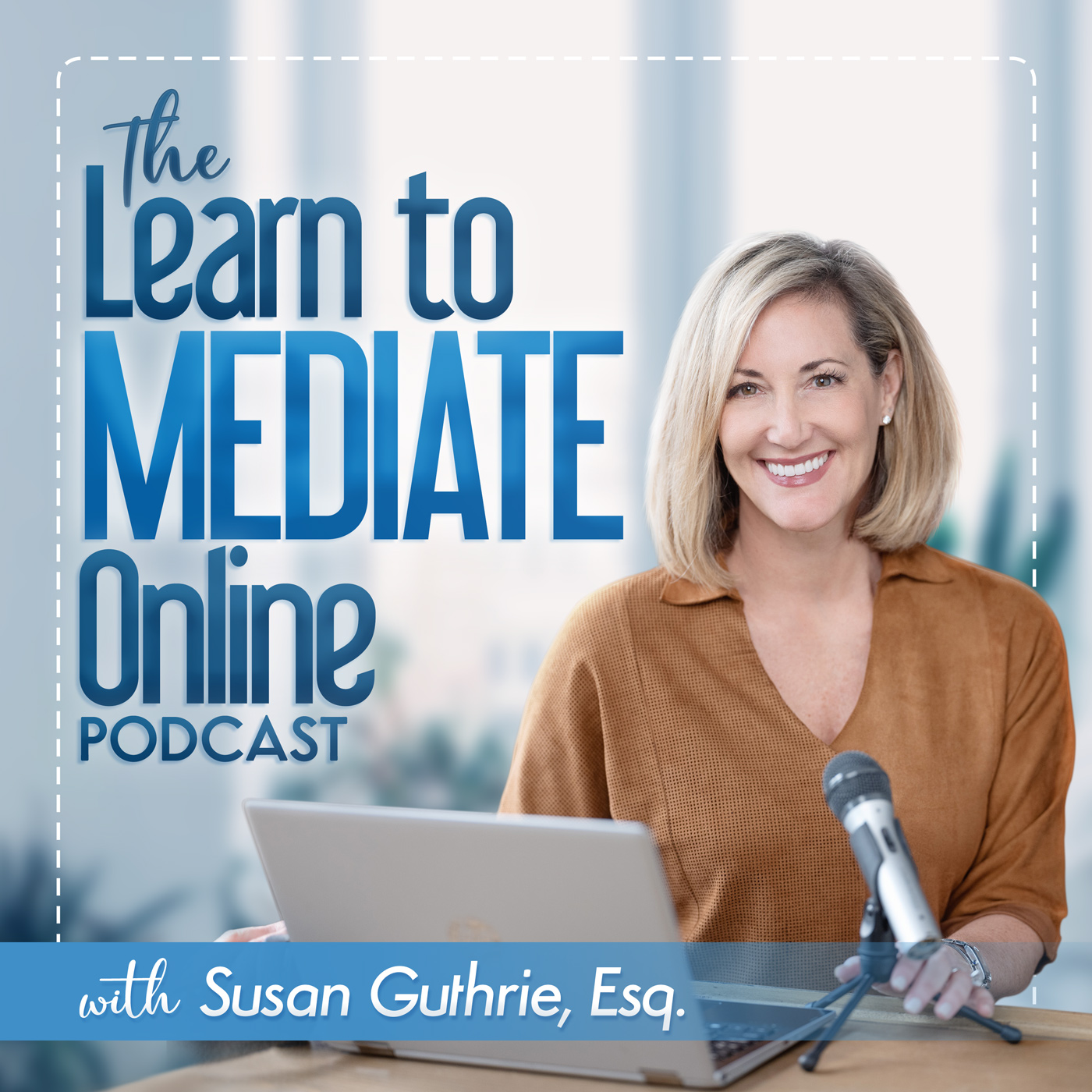 As a leading online dispute resolution professional, by far one of the most common questions that I hear is how do you establish rapport with participants or manage difficult emotions in an online proceeding when everyone is remote from each other?  There is great concern that you lose "the personal touch" in a virtual mediation but the good news is that there are ways to adjust your approach to continue to connect with your participants naturally with easily implemented tips from this week's guest, Dr. Debra Dupree, The Mindset Doc!  Dr. Debra is a psychologist and leading mediator and trainer who shares her insights for transitioning the emotional content of your mediations and online dispute resolution proceedings to the online platform to help you help your clients to resolve their disputes and move forward as you have always done.  
Some highlights from this episode:
Find out why the pre-mediation conference(s) with the parties is more important than ever in a virtual mediation.
What is the question that most mediators miss asking?  
How does the acronym BEACH help you to find out what is important to your participants?
What percentage of our communication is through our expression, intonation vs. the words we say?
What happens to emotional intensity when participants are not in the same room?
Why are the attorneys in mediation often more challenging emotionally to work with than the clients?
Dr. Debra is a veteran of hundreds of workplace and family mediations herself, both in person and online, so she is the perfect person to help us all to create that "personal touch" online - be sure to listen before your next online dispute resolution proceeding!
More information on this week's guest, Dr. Debra Dupree:  Dr. D represents the best of the best as an extraordinaire Business Mediator/Trainer and phenomenal transformational Keynote Speaker and Workshop Facilitator.  As the MINDSET Doc, her program, The AGILE Lawyer:  Leveraging Your Mindset, decodes the formula for moving litigators into peacemakers for client preservation and how to monetize the mediation mindset to pivot successfully.
Debra has extensive training and experience in the psychology of human behavior and dispute resolution.  As the Director of Training for Mediation Training Institute (MTI), she worked directly with MTI's founder, Dr. Dan Dana, a forerunner in the field of dispute resolution, training attorneys and human resource professionals as Workplace Mediators throughout North America.
While not an attorney, she thought often about pursuing law school and even taught at law school in ADR for several years.  But, ultimately decided to stick to her passion for dealing with human behavior in conflict, seeking resolution.  Afterall, she was married to two attorneys and learned a lot along the way.
Needless to say, she is attracted to the legal mind, its intellect, and ability to solve legal problems...she just wants to see advancement in their ability to deal with people problems!
For more information on Dr. Debra's upcoming FREE Webinar on using ZOOM to gain, retain and sustain clients when social distancing and working virtually are the new way of doing business , visit the landing page:  http://events.constantcontact.com/register/event?llr=quhbr9cab&oeidk=a07eh4ghl8h151d362a
For more information on Dr. Debra's upcoming programs visit www.theagilelawyerlife.com.
******************************************************************************************************
About Our Host:  Susan Guthrie, nationally recognized as one of the Top Family Law and Mediation Attorneys in the country, has been helping individuals and families navigate separation and divorce for 30 years. Susan provides online divorce mediation and legal coaching services to select clients around the world.As a leading dispute resolution professional, Susan is honored to serve on the Executive Council of the American Bar Association's (ABA) Dispute Resolution Section as the Membership Officer and to be a Co-Chair of the Mediation Committee.
Susan also is one of the leading experts in online mediation in the country and trains other professionals in the practical and ethical considerations of conducting their mediations online through her business Learn to Mediate Online (www.learntomediateonline.com.) 
Susan also offers additional training and webinars in:
Social Media Marketing for Professionals
DIY Website Basics
Building an Online Practice 
Starting Your Own Podcast 
and MORE so be sure to check the site for dates and times and to REGISTER!  LEARN TO MEDIATE ONLINE
Susan has been featured in and on media outlets such as CNBC, Market Watch, Forbes, Eye on Chicago, WGN, the ABA's Just Resolutions Magazine, Thrive Global, The Nook Online among others. She is licensed to practice law in the States of California and Connecticut as well as before the Supreme Court of the United States.
Susan's other Podcasts: After a year and half of co-creating and co-hosting the award winning podcast, Breaking Free: A Modern Divorce Podcast which reached over 3 million listeners, Susan recently launched her fresh and inspiring new podcast, The Divorce and Beyond Podcast with Susan Guthrie, Esq. which debuted on iTunes "Top Podcasts" List for self-help podcasts. Divorce & Beyond is focused on pulling back the curtain on the mysteries of the divorce process and bringing tips and resources to help people to thrive and shine in their new future beyond divorce.
Follow us on Instagram:  Susan Guthrie, The Divorce & Beyond Podcast and Learn to Mediate Online!
Be sure to subscribe to the podcast on your favorite platform so that you don't miss an episode and if you enjoyed this episode, please give us a 5 Star Rating on iTunes and tell us what you liked in a REVIEW!