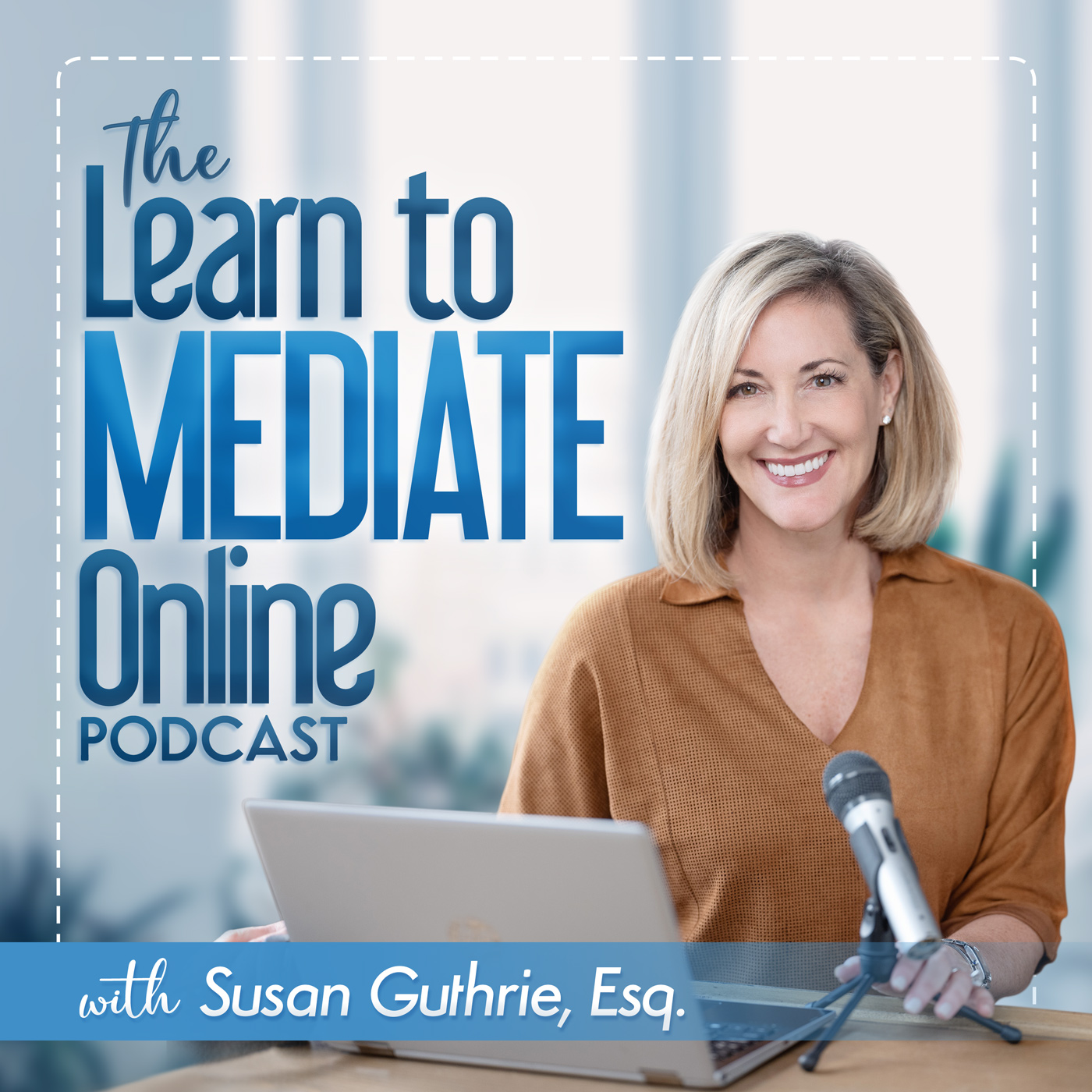 In this episode, online mediation expert Susan Guthrie, speaks with Managing Director of Litigation-Tech, LLC, Ted Brooks about the technology support and trial presentation services he provides to attorneys and courts.
Technical Bailiff and Trial Presentation services are a relatively new offering in the world of litigation, but Ted Brooks has bee providing technology support to lawyers, firms and courts for more than 20 years.  In the massive shift to online hearings, trials, arbitrations, depositions and more during Covid, Ted and his team have expanded their services offerings to include the technical support needed in virtual and hybrid proceedings.  Tune in to this episode and find our just how critical a technical bailiff with virtual support services can be in your next online proceeding!
More information about this week's Special Guest: 
Ted Brooks has been providing litigation support and legal technology services to law firms for over 20 years. He has written hundreds of articles, is a popular CLE presenter, and has won numerous professional awards for his work.
In addition to supporting remote, in person and hybrid trials, arbitrations, hearings and depositions, Ted is a Founding Advisory Board Member of The Online Courtroom Project, a collaborative group of professionals who have conducted and published a study on remote jury trials from voir dire to verdict, and have presented the NITA/OCP Summit. As the Managing Partner of Litigation-Tech LLC, Ted is among the first and few to offer HIPAA-Compliant (encryption, enhanced security, and interpretation) Technical Bailiff and Trial Presentation services. A few Large and Complex Litigation Trials and High-Profile matters include the Los Angeles Dodgers (McCourt) Family Law trial, People v. Robert Blake Criminal Defense, Western MacArthur Asbestos case, and Johnson & Johnson Surgical Mesh Trial.
Click here to find out about live virtual interpretation service Interprenet, mentioned by Ted in the episode:  https://www.interprenet.net/
****************************************************************************
About Our Host: Susan Guthrie, nationally recognized as one of the Top Family Law and Mediation Attorneys in the country, has been helping individuals and families navigate separation and divorce for 30 years. Susan also is one of the leading experts in online mediation in the country and trains other professionals in the practical and ethical considerations of conducting their mediations online through her business Learn to Mediate Online (www.learntomediateonline.com.)
As a leading dispute resolution professional, Susan is honored to serve on the Executive Council of the American Bar Association's (ABA) Dispute Resolution Section as the Membership Officer and to be a Co-Chair of the Mediation Committee. 
Susan recently partnered with mediation legend, Forrest "Woody" Mosten, to form the Mosten Guthrie Academy for Mediation and Collaborative Law Training to provide the gold standard of training for professionals in an online format.  Upcoming Mosten Guthrie trainings include:
Advanced Mediation Training May, 2021
40-Hour Divorce & Family Mediation Training September, 2021
Consulting & Study Practice Groups ongoing
There are even opportunities to customize your own training program or consulting group with Woody and Susan!
Visit www.MostenGuthrie.com to find out more.
In addition:
The Learn to Mediate Online Training Program is NOW ON-DEMAND!  To date, more than 15,000 dispute resolution professionals have benefited from her online mediation training program which is available as an ON DEMAND COURSE!  The program will help you to transition your in-person mediation process to an online virtual proceeding via Zoom video-conferencing and more.  Go here to find out more: https://learntomediateonline.teachable.com/
Susan also offers additional training and webinars in (available on www.learntomediateonline.com):
***To receive 10% off the cost of the downloadable programs use code "PODCAST." ****
Social Media Marketing for Professionals DOWNLOADABLE PROGRAM NOW AVAILABLE!
DIY Website Basics DOWNLOADABLE PROGRAM NOW AVAILABLE!
Susan also offers 1:1 private coaching and more.  Go to www.learntomediateonline.com
********************************************************************************************************
Susan has been featured in and on media outlets such as CNBC, Market Watch, Forbes, Eye on Chicago, WGN, the ABA's Just Resolutions Magazine, Thrive Global, The Nook Online among others. She is licensed to practice law in the States of California and Connecticut as well as before the Supreme Court of the United States.
Susan's other Podcasts: After a year and half of co-creating and co-hosting the award winning podcast, Breaking Free: A Modern Divorce Podcast which reached over 3 million listeners, Susan current podcast, The Divorce and Beyond Podcast with Susan Guthrie, Esq. debuted on iTunes "Top Podcasts" List for self-help podcasts and is one of the leading divorce podcasts in the country. Divorce & Beyond is focused on pulling back the curtain on the mysteries of the divorce process and bringing tips and resources to help people to thrive and shine in their new future beyond divorce.
Follow us on Instagram:  
@susanguthrieesq
@learntomediateonline
@divorceandbeyond
@mostenguthrie
Be sure to subscribe to the podcast on your favorite platform so that you don't miss an episode and if you enjoyed this episode, please give us a five star review and leave a comment telling us what you liked!  You can link to the most popular podcast platforms here:  https://learntomediateonline.com/ltmo-podcast